28.03.17
Beauty and the Beast (2017)
Directed by Bill Condon (Dreamgirls, The Twilight Saga: Breaking Dawn Part 1 and 2), this 2017 live-action remake of the 1991 Disney classic shares the same beautiful and magical visuals as the original.
I really didn't want to like this, as I am a huge fan of the original animated motion picture, but I left the cinema in awe. Starring Emma Watson as Belle, Dan Stevens as the beast and Luke Evans as Gaston (among other stars), this picture will open up the world of Disney to new audiences.
Mostly sticking to the original script, Beauty and the Beast retells the magic of a young girl who finds herself trapped in a castle, after trading her place for her elderly father's. The CG throughout it is epic, with stunning visuals, in particular within the 'Tale As Old As Time' scene and the 'Be our Guest' musical number. The small french town in which Belle resides is also charmingly designed, as is the beast's mysterious castle. With a few new songs added in and a few plot differences to the original, it is a wonderfully entertaining and of far better quality to any live-action Disney remake I have seen so far. Those who are skeptical of how this will compare to  the 1991 version will be pleasantly surprised.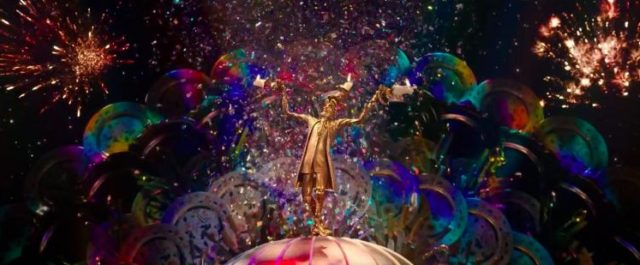 Despite Emma Watson's singing at times being a tad patchy, all of the musical numbers are toe-tapping and pay homage to the greatness of the original. In terms of performance, in particular, I think that Luke Evan's as Gaston is perfect, as is Josh Gad's Le fou. Charmingly over-the-top, I think that entire cast is wonderfully diverse and it's use of musical theatre actors such as Audra McDonald as Madame Garderobe, shows the quality the creators wanted to achieve, which worked brilliantly in their favour.
I only have two negative comments (which for the first is more a personal judgement), I wish they included the musical number 'Human Again' which was one of my favourites from the original. This however, may be due to the fact that not everything can be achieved in live-action, as it can in animation. The second is the poorly computer-generated beast and I know that it is at times hard to create a creature which fits into the world, but I think his design is a little disappointing.
This motion picture was simply extraordinary and I would recommend it to everyone. Its portrayal of the strong-willed courageous Belle, and the beautiful retelling will entertain audiences of all ages. I can't wait to see this again.
— AW